This site generates income via partnerships with carefully selected travel brands and/ or purchases made through links to them. As an Amazon Associate I earn from qualifying purchases. See why this is important.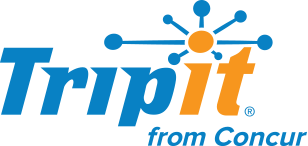 I've been a relatively active user of TripIt for a couple years now. It's always been a handy tool for me to keep track of flights, hotel information and destination activities. And the affordable price of FREE for the basic version, well, that just makes it so much easier to make the decision to try it out.
The best thing about TripIt, especially for family travel, is the ability to share the plans easily with other travelers. You can even add other planners to the trip- which is terrific if you are trying to coordinate flight schedules.
How to Use TripIt
You can create a free Tripit account at TripIt.com or sign up with Google, Facebook, or Yahoo accounts.
After signing up, click the ADD A Trip button to create your trip. Add the destination, dates, a name for your trip, and if you want the information to be private or shared with groups.
To add plans like hotel reservations, flights, and events, just forward the confirmation emails to [email protected] and TripIt will automagically insert them into your itinerary.
If your plans don't have a confirmation email, you can easily insert the information manually.
You can even set TripIt to coordinate with your calendar.
Easy peasy.
If you have a smart phone or tablet, you can get the free app (Android, iPhone, Windows phone & Blackberry) to keep track of your trip while you're on the go. No more shuffling papers while you stand at a reservation desk.
For a Few More Perks Try TripIt Pro
I am a relatively new convert to the paid version of TripIt, TripIt Pro. At the current price of $49 per year, it's a far cry from free. But there are a few reasons to consider it- especially if you're planning an overseas trip.
Flight alerts. Especially handy if you have to catch a very early flight that gets delayed or you have to pick up people at the airport. No one likes waiting at an airport for hours unnecessarily.
Seat notification. Don't like your seat? Let TripIt know which seat you have your eye on and they will let you know if it becomes available.
Flight refunds. TripIt tracks airfare prices and lets you know if your flight is eligible for a refund- especially handy if you're traveling on a budget.
Points tracking. If you have a dozen hotel and airline points cards, keep all the info in one place where you can review it easily (and not have a dozen browser windows open).
Need a visual? I understand, I'm that way too. This video might help…
Note: TripIt is great for any trip you take- not just to Ireland. You can even use it to plan your road trip.
Disclosure: I have used the free version of TripIt for a few years. I received TripIt Pro as part of a welcome pack for TBEX Dublin in 2013. I liked it so much I have renewed TripIt Pro at my own cost.