This site generates income via partnerships with carefully selected travel brands and/ or purchases made through links to them. As an Amazon Associate I earn from qualifying purchases. See why this is important.
Atop a hill overlooking the charming town of Westport in County Mayo, Knockranny House Hotel is a perfect accommodation for travelers looking for affordable luxury along the Wild Atlantic Way.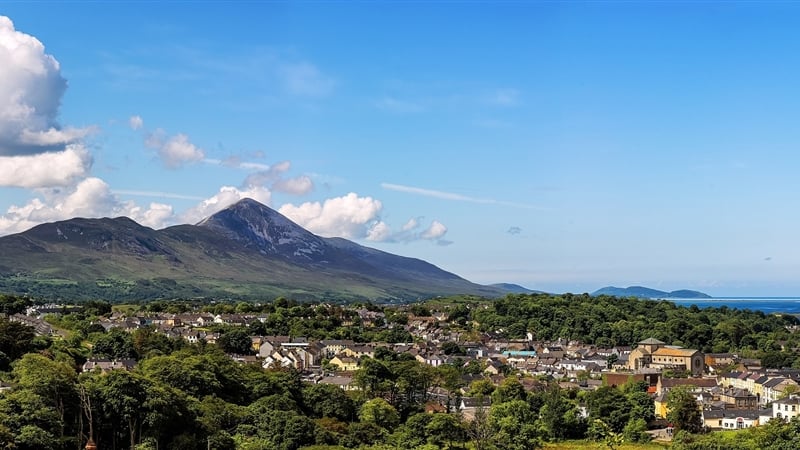 Knockranny House Hotel in Westport
After a week in Dublin for Temple Bar Trad Fest we were more than ready to slow down and relax along Ireland's west coast.
A night at Knockranny House Hotel was the perfect location to unwind after the busyness of the city.
Ireland Travel Tip: Visiting Ireland in January- What You Can Really Expect
Arriving at Knockranny House Hotel
Situated at the edge of Westport, Knockranny House is easy to find whether you're coming straight in from Dublin, via the N5, of if you are approaching from the town centre below.
Exiting the main road and winding your way up the hillside, you are soon in front of the sprawling manor. The stone facade with echos of Tudor styling hint at the aesthetic within.
Check in at the classic oak counter is quick and you are soon weaving your way through the hotel to your well appointed room.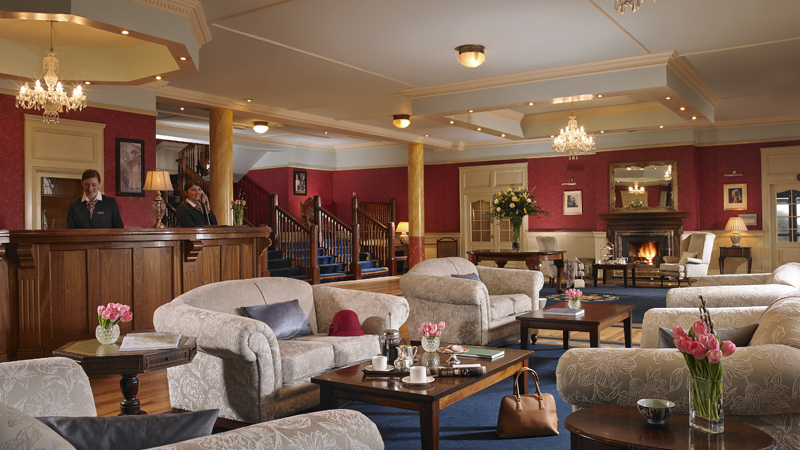 Rooms At Knockranny House Hotel
I had booked a classic bedroom for our stay; a spacious area with a queen bed, desk, comfortable chair, and small table.
Lucky for us January is a slow travel season and we were upgraded to a Grand Deluxe Room.
This room was huge!
A small hallway greeted us upon entry. In there was our amoire, tea and coffee service, and a nicely lit dressing table.
Our large bathroom was through a door to the right. The deep soaking tub called to me immediately. They layout, with separate tiled shower and double vanity, felt very spa-like. The only thing missing was a chaise lounge on which to relax with cucumbers on my eyes.
While all this was impressive, I was truly blown away by the bedroom.
As I crossed the threshold a massive room spread before me. Two desks were placed along the east wall, a king sized bed on the wall opposite, with at least 10 feet separating the two.
Well-cushioned chairs with ottomans, a couch, and table were scatted through the room's spacious interior.
After touring the room I was lamenting our single night stay; this was a space I could settle into for a few days.
Read more reviews of Knockranny House Hotel at Trip Advisor.
Save or Share this Article!
Dining at Knockranny House Hotel
A late lunch left us with small appetites in the evening, so we opted for shared appetizers in the Brehon Bar.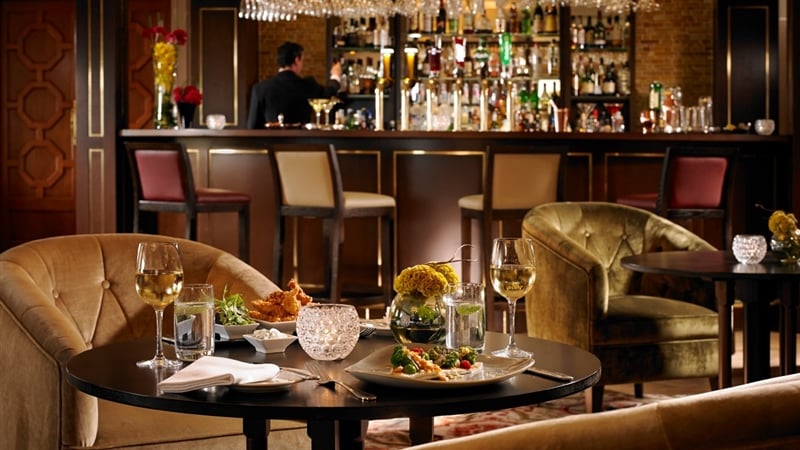 Lined with bookshelves and fitted with plush chairs and small tables surrounding a central fireplace, the Brehon Bar feels like a luxe library, a spot where you can settle in and stay a while.
We chose a table near the fireplace to enjoy our Black Pudding Croquet and Buttermilk Fried Chicken with chips.
Of course we couldn't leave without dessert. Though we tried to agree on one to share, it was a futile effort. Soon both the Apple Crumble and the Lemon Polenta Cake appeared on our table.
Breakfast at Knockranny House is served in the La Fougere Restaurant, which has a stunning view of Craogh Patrick.
We were lucky enough to be seated by the windows and view the holy mountain as the clouds swept away following a snowfall.
Breakfast at Knockranny House features an extensive buffet with both Continental and hot items, as well as the opportunity to upgrade your meal with made to order specialties for a nominal price.
How to Spend a Few Days in Westport, County Mayo
Don't make the mistake we did and spend only one night in this hotel. There is so much we missed, including dinner in the award-winning restaurant, treatments in the spa, and relaxing in the conservatory or sitting rooms.
Luckily we have spent quite a bit of time in Westport (it is one of my very favorite towns in Ireland), so I do have plenty of recommendations on how to spend your time in this wonderful town!
What to Do in Westport, County Mayo
Westport is a harbour town on Clew Bay in County Mayo, Ireland. From here you can experience the rugged coastline of the Wild Atlantic Way, step back into Ireland's history, and enjoy plenty of lively evenings in the local pubs.