This site generates income via partnerships with carefully selected travel brands and/ or purchases made through links to them. As an Amazon Associate I earn from qualifying purchases. See why this is important.
AirBnB in Ireland is a wonderful hybrid of cottages and private rooms for rent with a smattering of bed & breakfasts and hostels including their accommodations for additional business exposure. The options are nearly endless… depending on where in Ireland you search your options can include private castles, thatch-roofed cottages, and city center apartments.
But not all AirBnB properties are created equally. While I have been very fortunate with AirBnB properties I have used, I have had a fair number of people contact me, in a bit of a panic, due to their own booked properties canceling mere weeks- or days- before their arrival.
Why does this happen and what can you do to prevent it? Read on for tips on using AirBnB in Ireland!
Best Practices for Booking AirBnB in Ireland
The AirBnB website is set up in much the same way as a hotel booking site- choose your location, dates, and number of guests, then further narrow your choices by room type (entire home, private or shared room), and price range.
For my search in County Galway you can see I had over 300 options pop up – far too many for me to reasonably check through.
By choosing the Filters button (marked by the the red arrow) I can narrow my selection further by choosing number of bedrooms, amenities, and whether I prefer to book instantly or stay with a 'Superhost"- a host with experience, great communication, and 5 star reviews.
I chose to narrow my search to lodgings with 2 bedrooms, 3 beds, at least one full bathroom, a kitchen, and internet. This didn't narrow my search by much, so I expanded the map with the '+' button in the top left to focus more directly on the specific area I want to be in-  for this example between Galway city and the Burren in County Clare. This brings me to a much more manageable 33 options.
Thirty three choices is still quite a number to look through. From here I'll use the map to narrow down the location – do I want to be in a village where I can walk to a pub and grocery? Or is more rural but with an ocean view what I'm looking for? I use the '+' to expand the map to the area I am interested in and show fewer choices on the page.
Narrowing my search to Kinvara, a lovely ocean side village with a few shops, I now have 4 options that fall within my filters.
None of the owners are 'Superhosts', so now I look at reviews. The home I'm interested in, with the great view of Dunguaire Castle, has only one review. It is much larger than I need… but I'm really drawn to the photo.
Unfortunately for this owner I won't be renting with her. The reasons:
The photos lead me to believe that the entire home is not available, but that I would be sharing the home with her family- and possibly some yoga students.
The rental is listed as 'entire home' but under description it says 'lovely private room'- adding to the confusion of the photos.
The minimum stay is listed as 7 nights. Too many for my plans.
Working through the rest of the rentals in the same way – photos, description, minimum stay, and reviews, I make my choice. Note: be sure of the cancellation policy, located in the 'Prices' section, before booking! Some are quite strict! If I have any questions I will contact the host (link is located in the 'About this listing' section) before inquiring on the dates I need.
Being sure my dates and guest number are correct, I request booking. At this time your payment information is utilized. Though you aren't charged you will have a 'hold' put on the funds.
Now here is where AirBnB differs from hotel booking… when you request the booking you will be asking the hosts, politely, to let you use their home. Let them know who you are traveling with (adults, children) and even why you chose that area.
And then you wait for approval or reservation confirmation. Usually hosts will respond within 24 hours, but I have had hosts not respond at all. If that happens move on to your next choice.
Once the host approves your request you are billed for your stay. This opens up a line of communication between you and your host via the AirBnB site where the host will share directions, phone numbers, tips for the area, and other helpful information with you.
Now your reservation is set. And usually all is well. But what if it isn't?
Handling Problems with AirBnB Bookings
AirBnB has a great resources section and do a really good job of resolving bad situations.
Options if your host cancels : you can transfer your payment to a new reservation or get a full refund.
If your host wants you to switch properties : This is your choice, a host can't force you to switch. Be sure the host cancels your original reservation so you don't get charged for the cancellation- and lose money. Tip: don't agree to anything outside the AirBnB site and be sure to keep all contact in writing via the AirBnB communication tools as proof. If you make changes outside Air B&B you will lose all protections of AirBnB booking. If something seems fishy contact AirBnB right away.
If the booking isn't what you expected : Try to work it out with your host. If you can't reach your host- or you just can't stay- you can apply for a refund within 24 hours. Be sure to take photographs and/or video as proof of the issues you encountered.
The guest resolution center : For resolutions more than 24 hours after check in you will work with your host to find an acceptable resolution. If no resolution can be found you may ask for help from AirBnB after 60 days.
Staying at Your AirBnB Rental
When using AirBnB you are a guest in someone's home. It's kind of like staying in the home of a distant relative that you have never met. Best practices are to treat the home as you would your own, leave it as clean as you found it, and ask any questions if you aren't sure how something works. Most hosts will leave a book with instructions on water heaters, shower operation, and wifi passwords, as well as any other information you may need. Many will also leave tips on where to eat and shop as well as nearby attractions to visit.
AirBnB Rentals we Recommend
Note: AirBnB listings change often; I do my best to keep this list up to date with available accommodations.
First time using AirBnB? Use this link to sign up.
Fancy staying in a castle? Knappogue Castle in County Clare is available on AirBnB! It's an incredible opportunity to feel like Lord or Lady of the Castle – with your own 'fairy Godmothers' to serve breakfast and the opportunity to book tickets for the Medieval Banquet held April thru October.
Read about our Royal Stay at Knappogue Castle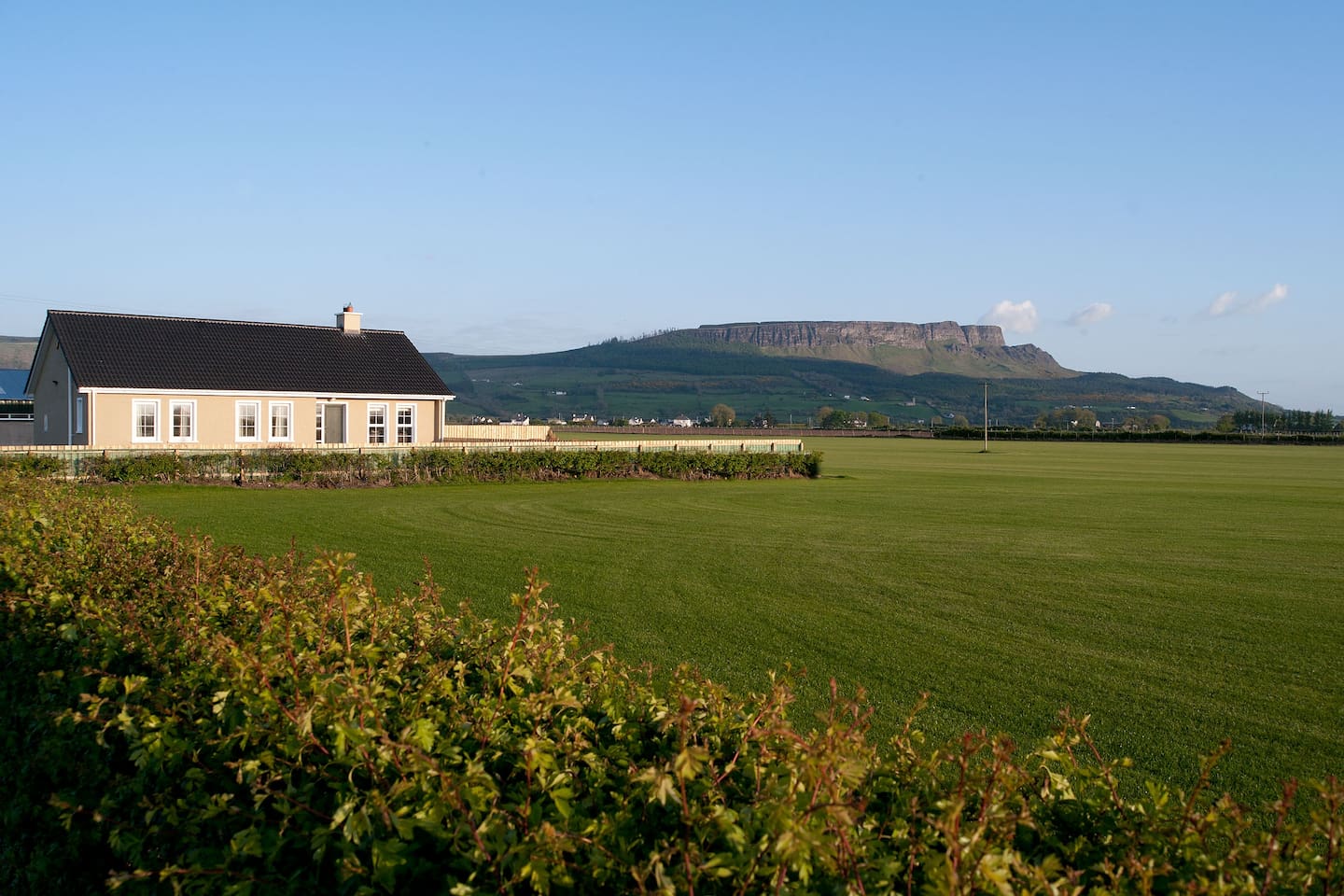 Binevenagh Cottage was our first AirBnB rental. Located in Limavady, near Derry, it was a perfect base for exploring Northern Ireland's amazing Causeway Coastal Route. With 3 bedrooms, 3 bathrooms, a large kitchen and lovely spaces in both the living room and rear patio, we were as comfortable as we are in our own home. The rural location wasn't far from a grocery and the peaceful evenings after a day of touring were incredible.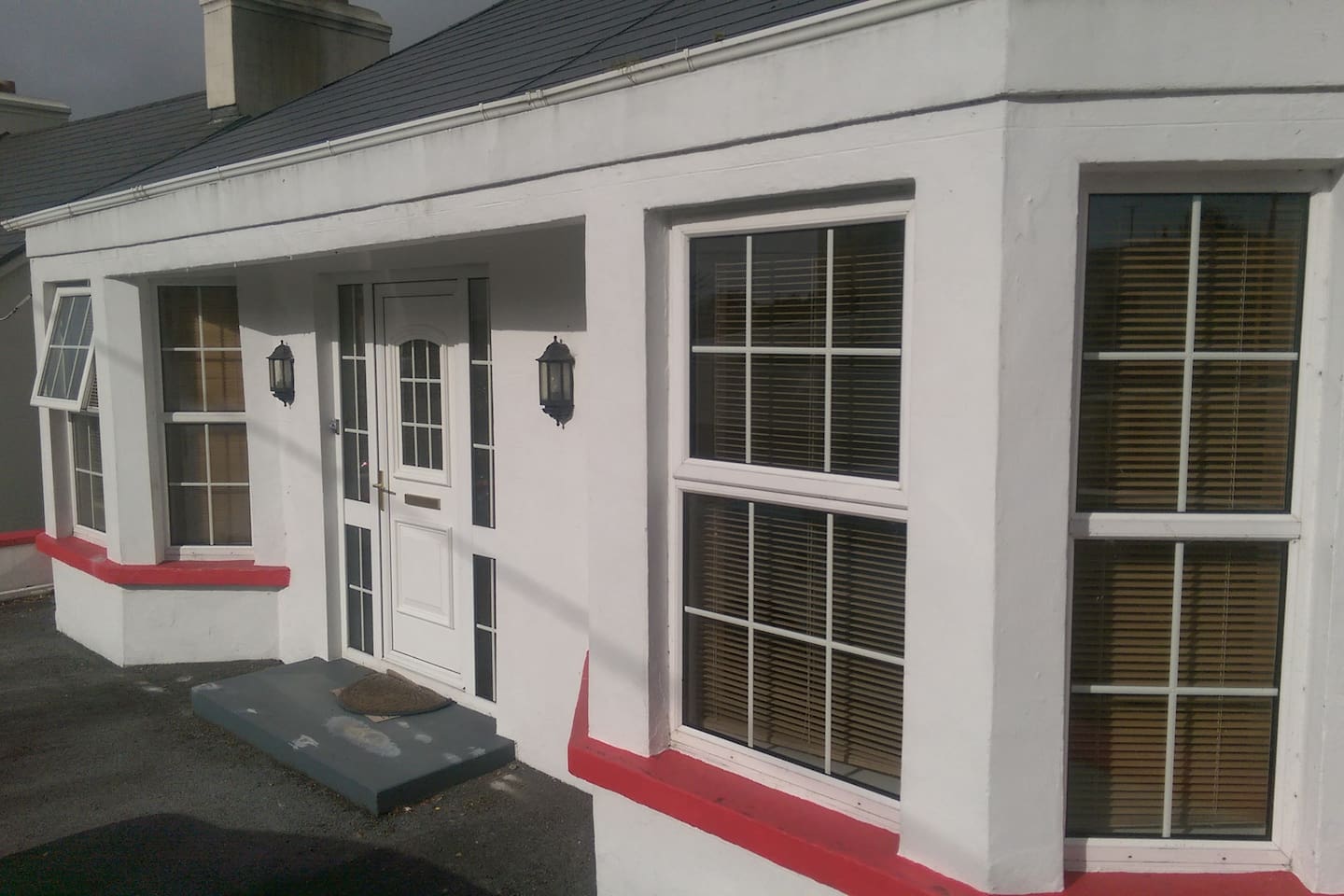 The 3 bedroom Lisdoonvarna Cottage was the perfect spot for a couple days spent in the Burren. With 3 bedrooms, 2 baths, and a sitting room upstairs and the kitchen, laundry and family room down it was a unique layout that worked well as the rear courtyard was also on the lower level. From here we were able to visit our friends at Kilshanny House, take a day trip to the Aran Islands, and spend time listening to music in Doolin. A really wonderful central location.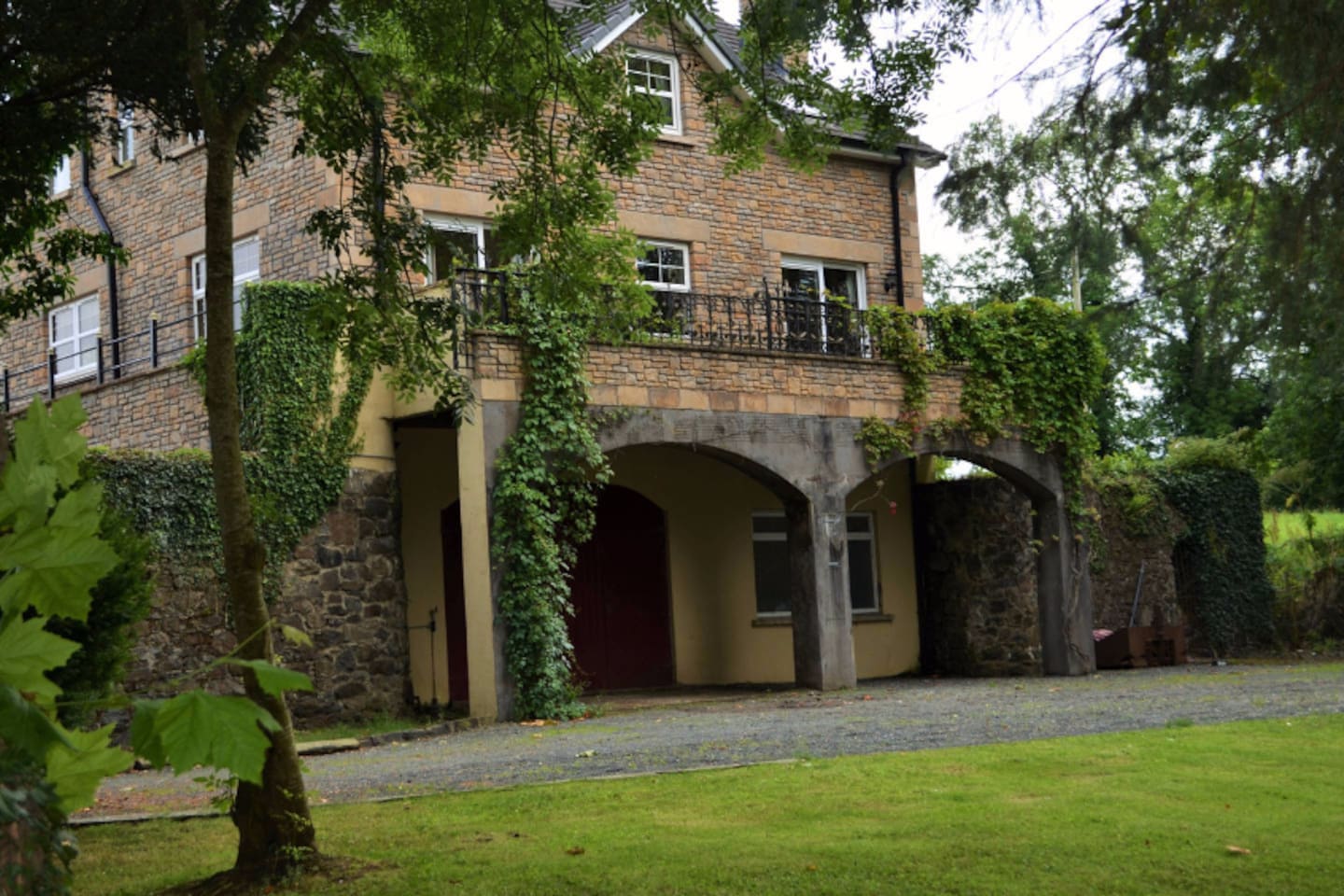 We spent 2 weeks in this incredible fishing lodge in the village of Coagh in County Tyrone, Northern Ireland. It was a perfect location to explore everywhere from Belfast to the Causeway Coastal Route, as well as the stunning rural areas around us. The cottage owners also own a pub next door. Nearby towns offer more grocery options, but you can visit the local butcher and get basics in Coagh.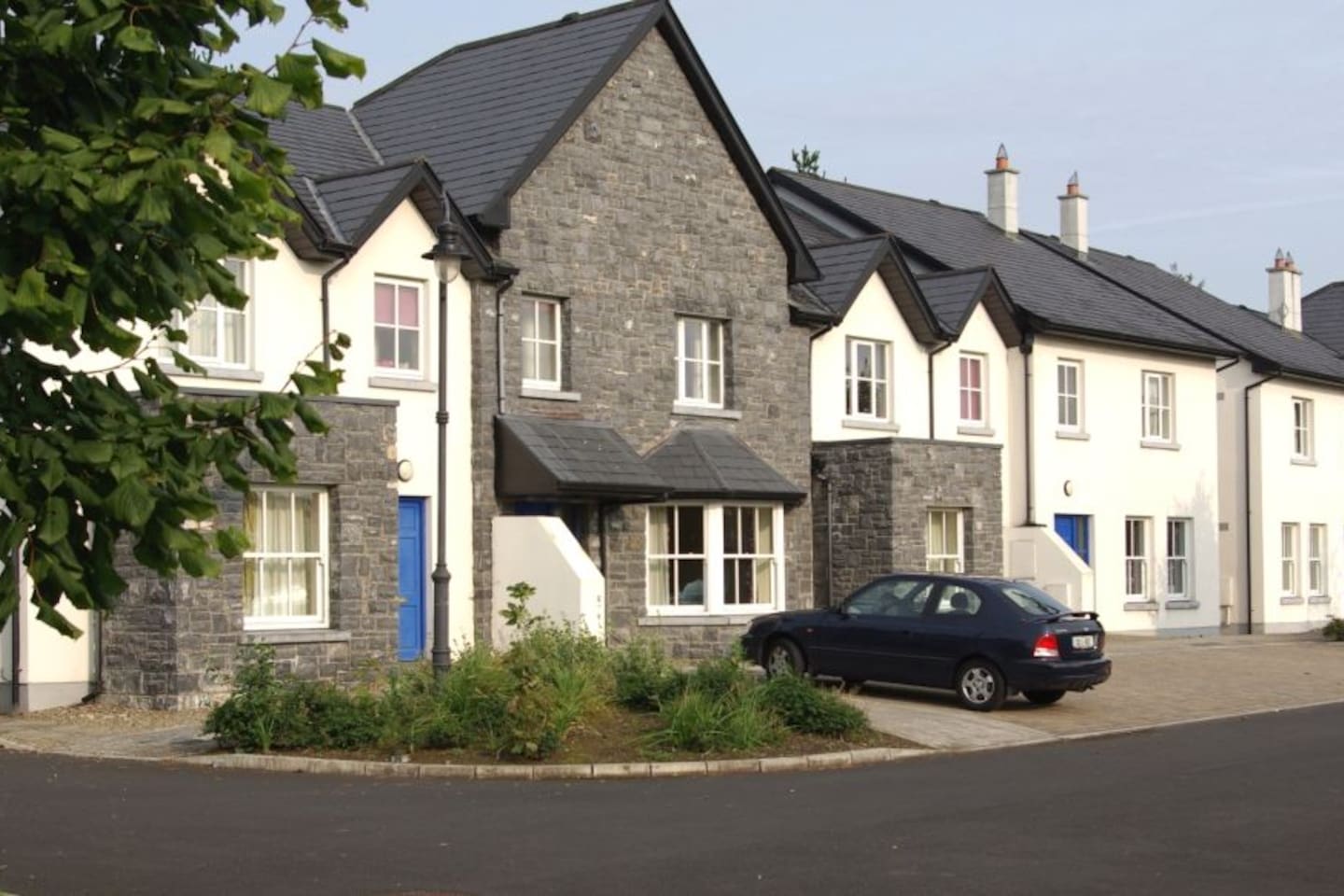 The vacation rentals in Bunratty have a terrific location! From here we walked to Bunratty Castle & Folk Park, as well as near by pubs. It's easy to day tour to the Cliffs of Moher & Burren, as well as County Limerick. Thesse townhomes are perfect for the beginning or end of your trip if you are flying in or out of Shannon Airport- it's just 15 minutes away!