This site generates income via partnerships with carefully selected travel brands and/ or purchases made through links to them. As an Amazon Associate I earn from qualifying purchases. See why this is important.
Is Ireland's capital city on your itinerary? If so you may be wondering about the best way to get around Dublin!
Getting around Dublin is easy- and you have so many options! But first let me begin with this disclaimer:
Do not drive in Dublin.
Yes, it is do-able. Yes, Google maps work (to a point). But Dublin is a maze of one way streets, streets that look like they should be alley-ways, and thousands of people making their way through a small area. Just trust me and save the driving for outside the city.
Pick Up (or Drop Off) Your Car in Dublin City Centre
Get the tips!
Click to add this article to your Ireland Travel board on Pinterest!
Getting Around Dublin Ireland
Dublin is a very compact city and most of the city's top attractions can be found near each other.
Is it easy to walk around Dublin?
Yes! Dublin is a city that was made to be explored on foot! Most of the attractions visitors seek out are found the the heart of the city centre.
From Grafton Street and Trinity College to St. Steven's Green and the spots along the River Liffey, Dublin is an easy city to stroll through.
There are a few spots that lie a bit further from the city centre – Guinness Storehouse and Phoenix Park immediately come to mind- that may prove farther than you wish to walk.
Luckily you'll find quite a few transportation options in Dublin!
Explore Dublin on 2 Wheels
If you like the freedom of walking but want to move around a bit quicker, check out these fun options for getting around Dublin!
Take a Spin on DublinBikes
You'll find Dublin Bike rental stations placed throughout the city. Bikes are designed for city use and feature a large wire basket, cushy seat, and three gears. For safety Dublin Bikes also have front and rear lights, reflective strips, and front and rear brakes.
To rent DublinBikes simply use the self-service terminal at each station. All terminals accept Leap Cards or 3 Day Tickets; some have credit card abilities which allow you to purchase a 3 day ticket.
Know this: Dublin Bikes are available to anyone 14 years of age and older. They do not come with helmets. Please read the important road safety guidelines before riding in Dublin city centre.
A Bus Tour Will Help You Get a Feel for the City
If you want to get your bearings in Dublin quickly, a bus tour is a great way to do that!
A hop-on hop-off bus tour gives you the chance to take a guided tour of the city while being able to hop on or off at some Dublin's most popular sites!
Most hop-on hop-off tours are aboard a double decker bus with a partially open top- so be sure to dress in layers to enjoy the tour no matter the weather.
You'll find a few hop-on hop-off bus options in Dublin:
Dublin Big Bus Open-Top Hop-on, Hop-off Sightseeing Tours
Tip: A 24 hour Big Bus Tour is included in the Dublin Pass.
Dublin: City Sightseeing Hop-On Hop-Off Bus Tour
DoDublin Hop-on Hop-off Bus Tour
If you're after a bus tour with a little 'something extra', I highly recommend Vintage Tea Trips. While you can't hop off this tour you will see Dublin from a vintage double decker bus as you enjoy a tasty afternoon tea!
Listen: Learn more about Vintage Tea Tours in the Traveling in Ireland podcast!
Use Public Transportation in Dublin
Dublin has a terrific public transportation system.
Dublin Bus operates the DoDublin hop-on hop-off bus above, as well as AirLink Express which operates between Dublin city centre and the airport.
Tip: You can get access to public buses, hop-on hop-off buses, and AirlinkExpress for 72 hours with the DoDublin Card.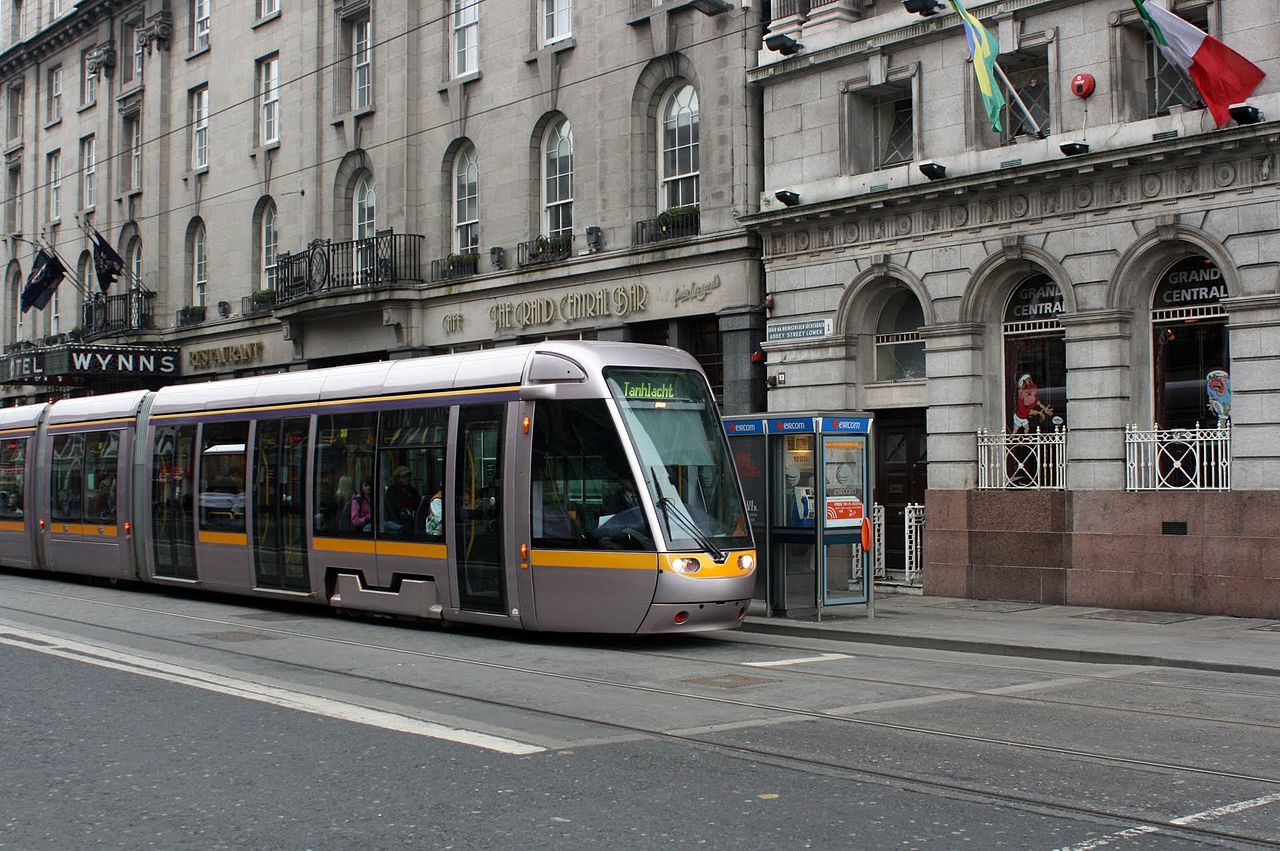 Dublin's light rail, the Luas (pronounced Louis- it means 'speed' in Irish) has two lines, the red line which travels east/ west and the green line which traverses north/south, through the city.
And, finally, Dublin has no shortage of taxi cabs. If you're in the city centre you won't have any trouble flagging one down. If you are outside the main tourist areas, or may need a cab later at night, I recommend downloading the MyTaxi or FreeNow app prior to your visit.
Can I use Uber or Lyft in Ireland?
To put it simply, no. Ireland does not allow private car owners to provide transportation services. While you can use the Uber app in Ireland, you can only book taxis or limousine hire through it.
What is the Best Way to Get Around Dublin?
This is completely a personal decision- but you will probably use at least two of my recommendations during your visit to the 'Fair City'.
Save or Share This Article