This site generates income via partnerships with carefully selected travel brands and/ or purchases made through links to them. As an Amazon Associate I earn from qualifying purchases. See why this is important.
Reader Question: We will be traveling across Ireland for 10 days, beginning in Dublin and ending in Shannon. Our route is mostly set, and I know that the B&Bs we are staying in advertise wifi. How is the wifi in Ireland? Do I need my own plan? And will I find wifi anywhere else?
Staying connected in Ireland is important- whether you just want to keep in touch with family and friends or share your amazing trip across your favorite social accounts.
I'm happy to report that wifi in Ireland is quite good in hotels & B&Bs across the country.  In addition to your lodging you'll find complimentary wifi at many cafés, pubs, and tourist attractions.
For many travelers this is more than enough connectivity.
If you want to be connected more than that, you have a couple of options.
In the Using Your Mobile Phone in Ireland article I offer tips to help you stay connected and keep the costs down. Wireless carriers are always updating their international plans, so it's good to check with your provider prior to your trip.
But if you want limitless connectivity your best option is to rent a personal wifi unit.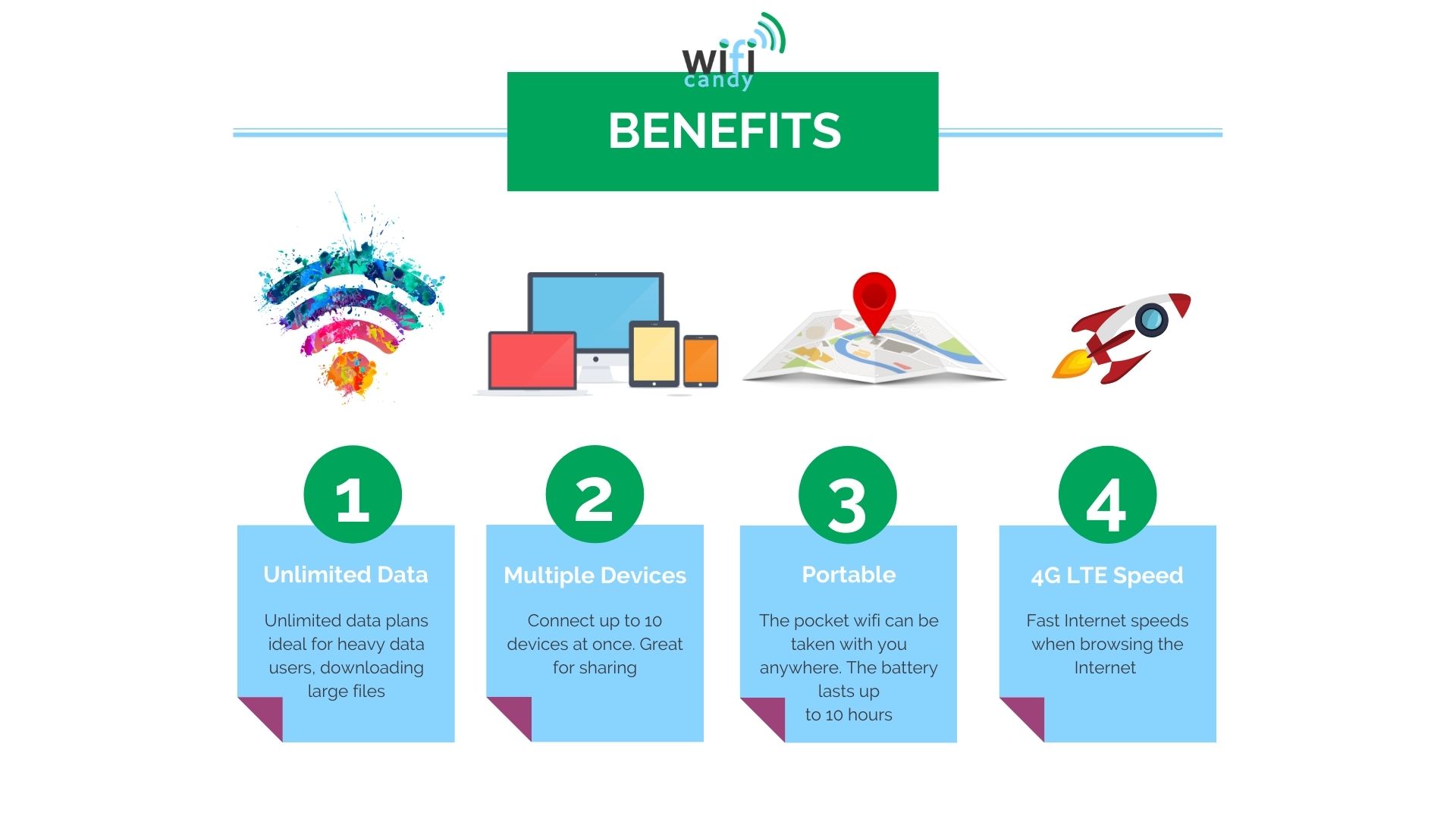 Renting a Mobile Wifi in Ireland
A mobile wifi unit does so much more than make sure you can upload that stunning photo you just shot to Instagram.
Need directions? You can use your map or navigation feature without worry. (And often for less than renting a GPS unit!)
Need to double check opening hours for that attraction you wanted to visit? Pull up the website.
Running late? Send an email to your B&B – or look up their number to give them a call. No worries.
While you have quite a few options to rent mobile wifi in Ireland, I recommend Wifi Candy for a few reasons.
Their costs are reasonable and the data is unlimited.
It can be picked up at Dublin or Shannon Airport, participating hotels, or you can arrange to have it shipped to your first nights lodging.
Return postage arrives with it, so all you have to do is put it in the bag and drop it in the post as you leave Ireland.
The unit I used was smaller than a deck of cards; I easily carried it in my backpack or one of the pockets of my jacket. The only drawback I found was that it didn't hold a charge all day, though this was easily fixed by simply plugging the USB cord in to the outlet in my rental car. It also came with a standard wall plug and an adapter for the lighter in the car.
Just so you know: even the most thorough data plans just won't work in some of Ireland's most remote locations. I've had connectivity issues with all carriers in places like West Cork, the Burren, Connemara, and the farthest reaches of Donegal. The infrastructure just isn't in place to support a wireless signal. (Even my Irish friends have these issues.) And that's ok! Even those of us whose life is online don't have to be connected all the time. Enjoy your trip – those Instagram updates can wait.
Do you have a question about Ireland travel? View the Ireland Travel FAQs page or email your question to Jody(at)IrelandFamilyVacations(dot)com. I will reply directly to you as well as add your question to this page- because if you need an answer, it's likely someone else does, too!