This site generates income via partnerships with carefully selected travel brands and/ or purchases made through links to them. As an Amazon Associate I earn from qualifying purchases. See why this is important.
One of the easiest ways to save money during your Ireland vacation is to use public transportation whenever possible.
I outlined the multiple ways to get around Ireland in this article and in this article, I am sharing information about the Leap Card for visitors, which can be used on select buses and train routes in Ireland.
Podcast: Play in new window | Download
Subscribe: Apple Podcasts | Spotify | Amazon Music | Android | Stitcher | RSS
Tip: when you're relying on public transportation it's important to have wireless connectivity. Learn how to use your mobile phone in Ireland and consider renting a mobile wifi unit from WifiCandy.ie. Use code IFVTRAVEL to save 10%.
When it comes to traveling through Ireland using buses, light rail, and trains, the Leap Card can be a wise purchase – as long as you understand where and how it can be used (and where it can't).
Benefits of Using a Leap Card in Dublin (and Beyond)
Cost Savings: One of the major advantages of using a Leap Card is the potential for cost savings. Compared to purchasing individual tickets, Leap Card fares are discounted on most public transport services, including Dublin Bus, Luas, DART, and some commuter trains. The savings can be add up, especially for visitors planning to extensively explore the country.
Convenience: With a Leap Card you don't have to worry about carrying cash or searching for exact change. Simply top up your card with credit and tap it on the card reader when boarding buses, trams, or trains. This saves time and reduces the hassle of purchasing tickets at each stop or station.
Interchangeability: The Leap Card provides the flexibility to switch between different modes of transportation without the need for multiple tickets. For example, you can enjoy a hassle-free transfer from bus to tram or train (where accepted) and avoid the need for additional tickets or fares.
Online Management: Leap Cards are managed online. This includes checking balance and transaction history and easily reloading the card with credit via the Leap Card website or app. The user-friendly experience helps ensure that you always have sufficient credit for your travels.
Drawbacks of Using a Leap Card
Initial Cost: While the long-term cost savings are undeniable, it's worth noting that there is an initial cost associated with obtaining a Leap Card. The fee for purchasing the card itself may seem like an unnecessary expense for occasional or short-term visitors. Do your homework to see if this is a good option for your trip.
Limited Validity: While the Leap Card covers a significant portion of Ireland's public transportation network, it does not provide access to all services. For instance, it cannot be used on private bus operators, such as GoBus or CityLink. Additionally, certain regional and long-distance services may not accept Leap Cards, necessitating separate tickets or alternative payment methods.
Usage Restrictions: Although the Leap Card offers convenience, it does have certain usage restrictions. It cannot be used for group tickets, meaning each traveler must have their own individual card. There may also be peak-hour restrictions or limitations on specific routes during busy periods. It's essential to familiarize yourself with these restrictions to avoid any inconveniences.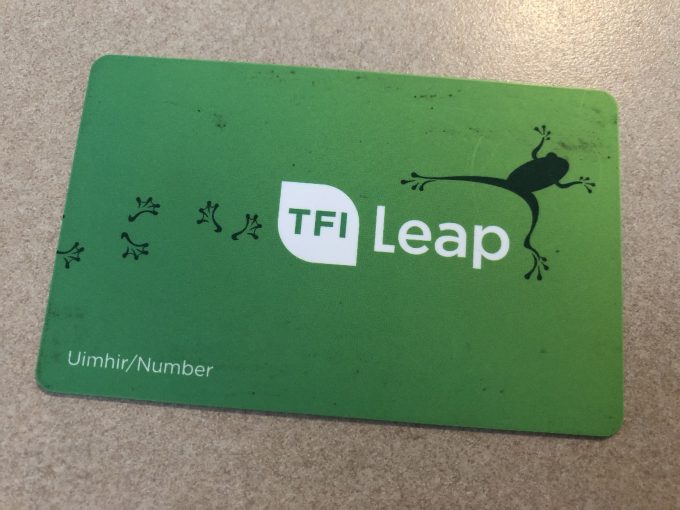 Where can the Leap Card Be Used?
The Leap Card can be used in various areas of Ireland, primarily in and around the major cities and their corresponding public transportation networks.
The Leap Card is valid on busses, trains, DARTs and Luas trams in and around Dublin, Cork, Galway, Limerick, Waterford, Sligo, Athlone, Kilkenny and Wexford city and town services throughout Ireland.
Some of the key areas where the Leap Card is accepted:
Dublin: The Leap Card is widely used and accepted across Dublin's public transportation system. This includes Dublin Bus, which covers the city and its suburbs, the DART (Dublin Area Rapid Transit) trains, and the Luas, which consists of the Red and Green tram lines.
Cork: In Cork, the Leap Card is valid for travel on the local bus services operated by Bus Éireann and other regional services within the city.
Galway: The Leap Card can be used on Galway's public transportation network, including the local bus services operated by Bus Éireann within the city and surrounding areas.
Limerick: Limerick's public transportation, including the city buses operated by Bus Éireann, accepts the Leap Card for fare payments.
Waterford: The Leap Card is also accepted on the public bus services operated by Bus Éireann in and around Waterford.
Wexford: In Wexford, the Leap Card is valid for travel on the local bus services provided by Bus Éireann.
Where Leap Card Cannot be Used
According to the TFI Leap website, the Leap Visitor Card is not valid for Bus Éireann services.
Private Bus Operators: Leap Card is not accepted on private bus operators such as GoBus or CityLink. These services often cater to specific routes, airport transfers, or intercity travel.
Hop-on Hop-off bus tours or other special tour services.
Intercity and Regional Services: While the Leap Card is suitable for most local and urban transportation, it may not cover long-distance or regional routes. In such cases, separate tickets or alternative payment methods may be required.
It's worth noting that the availability of Leap Card usage can vary within each region. Some services within these areas, such as certain regional or private bus operators, may not accept the Leap Card. As you plan your itinerary check the Leap Card website (scroll to the bottom of the page for a clickable map with information on a county basis) or inquire locally for specific details on the services and routes where the card can be used.

How to Purchase a Leap Card for Your Ireland Vacation
A Leap Card can be purchased online or upon your arrival at Dublin Airport or in the city centre.
Note that this is a physical card and not an e-ticket, so allow time for delivery if you purchase online (a minimum of 2 weeks).
Leap Visitor Cards are available in one day, 3 day, and 7 day options and can be refilled (topped-up) a maximum of 5 times via the website or app and expire one year from date of purchase.
Standard Leap cards are available in denominational amounts from €5 – €125.
Where can I find information about Ireland's private buses?
For more information about Ireland's private bus services, including schedules, routes, and fares, you can refer to the following sources:
Websites of Private Bus Operators: Most private bus operators in Ireland have their own websites where they provide detailed information about their services. Some prominent private bus operators include Aircoach (www.aircoach.ie), GoBus (www.gobus.ie), and CityLink (www.citylink.ie). Visit their websites to access up-to-date information on routes, timetables, ticket prices, and any special offers.
National Journey Planner: The National Journey Planner website (www.transportforireland.ie) is a comprehensive resource that provides information on all modes of public transportation in Ireland, including private bus services. You can enter your origin and destination to receive travel options, including private bus routes, along with schedules and fares.
Transport for Ireland: Transport for Ireland's website (transportforireland.ie) serves as a central hub for information on all public transportation in Ireland. While it primarily focuses on public transport services, it also provides some information on private bus operators. You can find links to the websites of private bus operators and check for any relevant updates or announcements.
Travel Information Centers: Local travel information centers, particularly in major cities or tourist hubs, can provide details about private bus services in their respective areas. They often have brochures, maps, and timetables available for various transportation options, including private bus operators.
It's important to note that private bus services may have their own separate ticketing systems and may not accept the Leap Card. Therefore, it's advisable to check the specific websites or contact the private bus operators directly for the most accurate and up-to-date information regarding their services.
Save or Share This Article
Use the handy bookmarking tool in the lower right corner (requires sign in) to set up bookmarks of your favorite articles across the web!